Mother's Day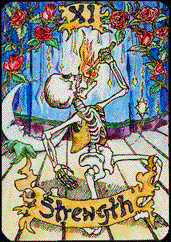 I'm enjoying a nice morning...complete with several homemade gifts from my daughter and a new deck of tarot cards:
Tarot de Los Muertos
. The suits are pens, coffins, pistols, and reels. Day of the Dead is one of my favorite holidays. When I was teaching Spanish in a classroom, I had a full sized cardboard coffin with a pretty skeleton all dressed up in the corner of the room. Not many subject areas can get away with that sort of thing. I collect Latin American folk art, mostly skeleton stuff, so I'm thrilled with my gift. Monica Knighton's site:
No Borders Studio
We're off to a feast at my friend Kate's house. She's having 13 guests for brunch. And she's amazing in the kitchen, I'm looking forward to it!