A Kindred Spirit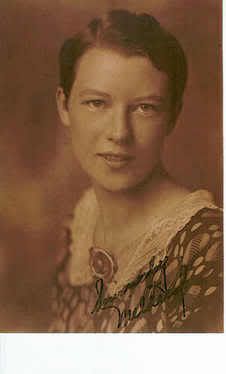 Mildred Cogswell Manogue
April 18, 1908 - April 13, 2005
My grandma was a remarkable woman. She graduated from college in 1927, when very few women attended. Above is her graduation photo. She wore knickers. And she loved hats. She lived all of her life in Wisconsin, as Millie Cogswell until she
married my grandfather
in 1930.
I realize as I sit to write this that to say she had a profound influence on me is an understatement. She was a teacher, and she taught me to read when I was in kindergarten. I got hooked a couple years later when she introduced me to Anne of Green Gables by L.M. Montgomery. The series of books were my Grandma's favorites, and quickly became mine. I later became a teacher, following both Anne and Grandma. And yes, we all have red hair.
It didn't bother her a bit that I dressed differently than all the kids in high school, and had strange friends. Now looking back on the photos, I see that she likely had the same attitude as a teen. She has always been very supportive of both me and my sister. After my father's death in 1992, we became even closer. After loosing her youngest child, even though he was 53, we weren't sure how she'd survive. She showed her usual spunk and has done very well. Even last week she was scolding the nuns in the home she has been in for the last 2 years.
Here
she is last fall with Lily.
Everyone should be so lucky as to have such a kindred spirit in their lives. I'm grateful.