A Goddess Party!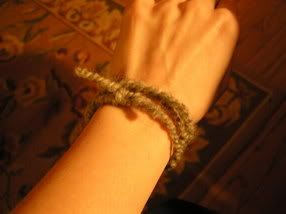 I had the pleasure of hosting a Blessingway for two friends today. It was great fun creating the
invitations
and
party favors
. With much help from the women in our circle, we pulled off a beautiful little gathering. The two women of honor,
Lynn and Leslie
, were seated together and had their feet soaked in rose water and then
massaged
during the ceremony. We created labor beads, a Navajo tradition in which each woman in the community adds a bead to a string to represent herself and her babies. We also told each woman "my wish for you is......" and put them in a journal for each. As we did this, we passed a skein of yarn, (shorn, carded and spun by
Keri
...the farmer in blue) and
connected each woman
in the circle by wrapping it around our wrists. We assisted each other in cutting, and now we'll wear our bracelets until both women deliver.
Kate
mastermined and prepared most of the feast. Today we dubbed her "Super Woman". I may make her a cape. The food and company were fabulous. We ended by all placing our hands on those big bellies as a
group
. Then, of course, there were presents to open. Lots of pampering stuff for the women. I have to say that I have the coolest friends on the planet, and I'm so grateful.