Selling myself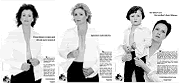 The new public education campaign was officially launched by WomenHeart today. You can buy a set of three PSAs for your place of work, doctor's office, whatever.....
here
. Or, if you really only want the one of me and my cute kid, I have some to mail out. Send me an
email
, and I'll mail one off to you. Even to Japan. Also, visit this science-based site to learn more about cardiac health and diagnostic testing for women:
HeartHealthyWomen
Have I mentioned it's heart month? Do you know your cholesterol count?