"Heart month" is starting....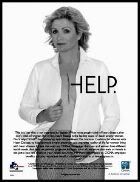 New PSA to run in the Wall Street Journal on Monday, Feburary 7th. The woman is Kathy Kastan, President of
WomenHeart.
I am so impressed with these women who were brave enough to show their scars. We were all photographed by
Rhoda Baer
in the D.C. area last year, and the series is expected to win some awards. It was an incredible experience.
Mine is similar, featuring Lily, and I'll let you all know where and when it will run.