Fairy Moon
Took the kidlet to a folk concert today at the Connecticut Audubon Society featuring Maria Sangiolo. It was a huge hit with all the kids: book reading, acoustic sing-along songs, and the creation of a fairy house. Lily was a great participator, as she always is. We bought her latest CD, Fairy Moon.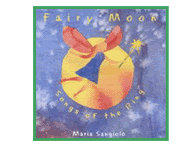 Maria Sangiolo
Songs about fairies and such. Lily sat in the car in our driveway until the CD had finished, and then we played the favorite songs over and over in the house. I fear for Maria the next time we see a performance. My daughter is loud. The sweet book read at today's activity:
Fairy Houses
Four seems to be a magical age for fairies, Lily is focused on them. We have several houses in our yard for the wee folk, and she says sometimes they sneak into the house. For friends of the fey:
The Leprechaun Watch
: a web cam focused on a fairy ring in Ireland. Be sure to report any sightings.
Faerie Jewelry
Faerie Magic:
Feri Tradition
A couple of authors I've read and recommend:
Francesa De Grandis
T. Thorn Coyle